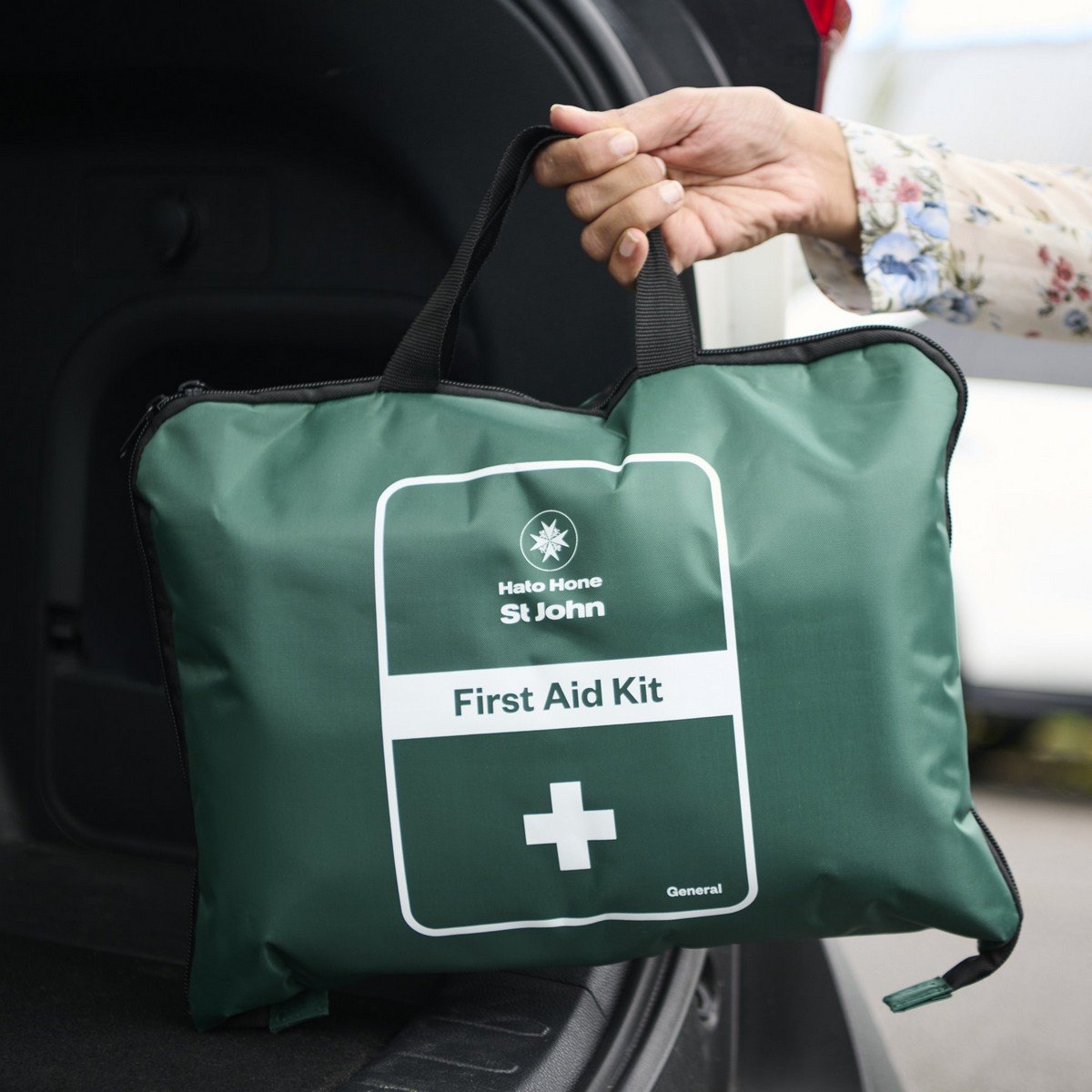 St John General First Aid Kit
$77.25 (incl. GST)
A comprehensive kit designed for general use at home, in the office or for a medium sized workplace. Recommended for 1-30 people. Dimensions: 34cm x 25cm x 10cm.
Kit Contents
1 x Aeroplast Plastic Plasters Box of 50
1 x Aeroplast Fabric Dressing Strip 7.5cm x 1m
1 x Crepe Bandage 5cm x 4.5m
1 x Crepe Bandage 7.5cm x 4.5m
1 x

Eurofarm Eurosuture 3mm x 75mm 5's

1 x Splinter Forceps Tweezers Stainless Steel 9cm
3 x Platinum Splinter Probes (Sheet of 5 Probes)
1 x Absorbent Combine Dressing 20cm x 20cm
2 x Triangular Bandage Non-Woven 90cm x 90cm x 127cm
5 x Non-Woven Sterile Gauze Swabs 7.5cm x 7.5cm
6 x Non-Adherent Dressing 10cm x 10cm
8 x Aero Saline Solution 15ml Ampoule
1 x Survival Rescue Thermal Blanket Foil 1.32m x 2.10m
1 x Wound Dressing Large 18cm x 18cm, No#15
2 x Sterile Eye Pad in Pouch
1 x Safety Pins (10 Pack)
1 x

Bastos Conforming Bandage 8cm x 4m Each

12 x Dynarex BZK Antiseptic Towelette Sachets
1 x Transparent Tape 12mm x 9.14m
8 x Pairs of Gloves
1 x Scissors Sharp Blunt Non-Sterile 13cm
1 x Instant Ice Pack Disposable 190mm x 120mm
1 x St John First Aid Tips Guide
1 x

Adhesive Label Blood Cautions St John

1 x St John Empty General First Aid Bag

1 x Adhesive Expiry Date Label
Delivery Information
Estimated delivery for first aid kits and products is 5 to 10 working days.
Estimated delivery for AEDs and AED accessories is 10 working days.
Please note due to factors outside of our control the delivery dates may change.