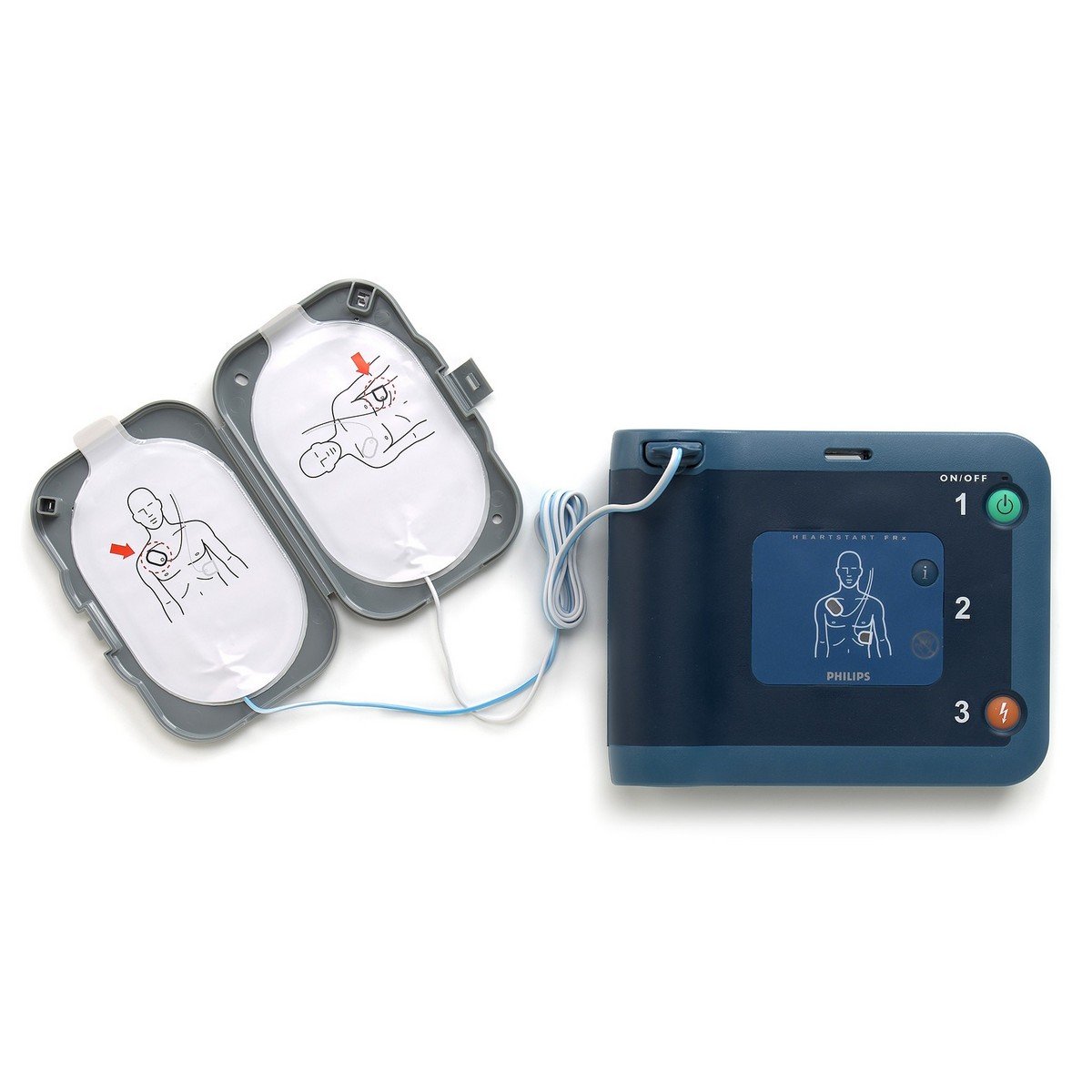 HeartStart FRx Defibrillator (861304)
$3,960.90 (incl. GST)
The Philips HeartStart FRx defibrillator is designed to be easy to use, rugged and reliable for those who get there first.
The FRx defibrillator treats sudden cardiac arrest (SCA) from ventricular fibrillation in environments and conditions too demanding for many other defibrillators.
Features and benefits
Semi-Automatic defibrillator: The unit detects heart rhythm and if needed will advise administering a shock via the push of a button
Easy to use: Voice instructions guide the user through each step of the process, including the placement of AED pads, shock delivery and performing CPR
Rugged: Designed for real-world use, the FRx defibrillator is built to surpass rigorous testing requirements: jetting water, loads up to 500 pounds and a one-meter drop onto concrete.
Daily self-tests: Ensures the unit is ready to use in a rescue. Green ready light indicates the device is ready for use.
Easy to maintain: Device indicates when pads and/or battery require replacing - ready light turns off and will start "chirping". The blue i-button tells the user what needs attention.
Quick Shock: Reduces the time between hands-off and shock delivery - delivers a shock in less than 8 seconds after the end of a CPR pause.
Pre-connected SMART Pads II: Save valuable time in an emergency with pre-connected pads that can be used on adults and children. SMART Pads II eliminate the expense of having to purchase different pads sets for different patient types
Use on Infants and Children: Paediatric key causes defibrillator to adjust shock treatment allowing adult pads to be used. Fewer steps during child emergency. Key does not expire.
Warranty: Defibrillator unit: 8-year warranty (from date of manufacture). Pads: 2-year shelf life from date of manufacture.
Battery: 4-year standby life when installed before "Install by Date".
Range of accessories: Range of accessories specifically designed for the HS1 including replacement pads, paediatric pads, replacement carry case and training accessories.
Contents
The Philips HeartStart FRx defibrillator is supplied with a range of accessories in preparation for administering life saving treatment. When purchasing this unit, you will receive:
Philips HeartStart FRx defibrillator
Lithium battery
Adult SMART pads cartridge
Owners manual
Quick reference guide
Carry Case
Ready kit (absorbent wipe, razor, gloves, CPR disposable mask)
Specifications
Dimensions (H*D*W): 6*18*22cm
Weight: 1.6kg (including battery)
Waveform: Truncated exponential biphasic
Energy Output: 150J (adult), 50J(paediatric)
Electrode Wire Length: 123cm
Memory Capacity: 15min of ECG and the entire event and analysis decision
Environmental Rating: IP55
FDA Approved
Delivery, Terms & Conditions/Returns
Delivery Information
Expected delivery for first aid kits and products is 10 working days, and AEDs and AED accessories is 15 - 20 working days.
Please note due to factors outside of our control the delivery dates may change.
Terms and Conditions/Returns