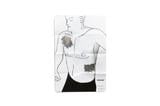 HeartStart Adult Pad Placement Guide (M5090A)
$107.81 (incl. GST)
Used for training purposes the Adult pad placement guide shows pad placement on a patient. The pad placement guide allows the training electrode pads to function properly during training simulations.
Delivery, Terms & Conditions/Returns
Delivery Information
Estimated delivery for first aid kits and products is 5 working days.
Estimated delivery for AEDs and AED accessories is 10 working days.
Please note due to factors outside of our control the delivery dates may change.
Terms and Conditions/Returns